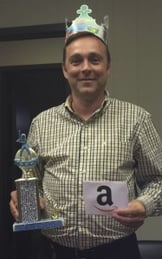 Tim
Congrats to engineers Monica McGowen in Health Services Group, and Tim Ford in Managed & Cloud Services.
These two are our Client Care Champs for September.
Monica scored a 98.15 on her customer satisfaction surveys, and Tim had 97.64 percent on his last month.
Monica and Tim were bestowed, respectively, with the Scepter of Victory and the Scepter of Positivity, the Crown of Excellence and Crown of Intelligence, a $25 Amazon gift card and a free afternoon off to admire their trophies.
Thanks for caring so well for our clients!