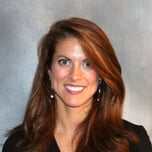 Haley Montgomery became TekLinks' new Director of Marketing & Partner Development in December 2013. She joins us after serving as Director of Marketing & Public Relations for UAB Medical West Hospital. She and her husband of six years, Luke, are the proud parents of a "culturally enriched" dog named Miss Dega (yes, as in Talladega).
Hometown: Tuscaloosa, AL
School and Major: University of Alabama (Roll Tide!), Advertising and Graphic Design
Non-work Activities: CrossFit, training for my first marathon in February, cooking and eating great food, and spending time with my friends and family.
Favorite Superhero: Wonder Woman
Favorite Movie: Anchorman: The Legend of Ron Burgandy, or anything with Will Ferrell. He cracks me up!
Last Meal Request (if you found yourself on death row): Anything cooked by Frank Stitt! He's my hero.
One Person in History You'd Like to Meet: I love art history, and especially the Renaissance or Impressionist period. So I guess Van Gogh so I could ask him about the ear!