TekLinks has added more than 3,000 square feet of capacity to our 200 Summit Data Center in Birmingham, Alabama. That brings the total capacity to 6,500 square feet, making the data center one of the largest in all of Alabama!
"This multi-million-dollar expansion allows TekLinks to accommodate our growing customer base's needs by providing them more space in our state-of-the-art facility as well as allowing us to grow our cloud services and offerings," says Terry Miller, TekLinks VP Data Center Architecture.
TekLinks currently provides colocation, cloud, hosting, and disaster recovery services to thousands of business of all sizes – from large financial institutions and government agencies to smaller medical practices and retail shops. The company has data center space in six locations across Alabama, Tennessee, and Mississippi. Customers choose TekLinks for colocation due to the power and cooling efficiency, redundancy and reliability the facility provides.
The expanded Birmingham data center is able to hold more than 150 equipment racks and currently has 1 MW of redundant generator capacity, which will be expanded to 2 MW as capacity grows. TekLinks partnered with Emerson Network Power, Generac, and Marathon Electric to install power and cooling systems that create a modular, redundant and efficient environment for their customers.
"We worked with our vendors to provide best-in-breed products to bring our customers the technology and availability requirements that they have come to expect out of our data centers," says Miller.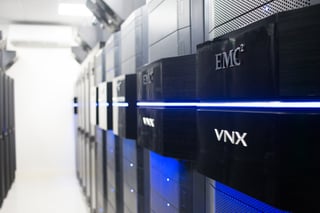 The Birmingham expansion brings TekLinks' total data center capacity across its six locations to more than 12,000 square feet.
200 Summit Data Center features:
Environmental Controls
Dual channel design
Redundant UPS systems
1 MW of generator power
Hot aisle containment design
Chiller-based cooling system employing Emerson XD technology
LED lighting
FM200 fire suppression system
Overhead power and cooling
Security
Card Access with secure hallway
Biometric vein reader
Combination lock cabinet
Learn more about our data center services.
---
WHO IS TEKLINKS? A national leader in cloud computing, managed services, engineering services, and value-added resale. We're a team of expert techies and business professionals who are passionate about building valuable relationships and getting things done right. Simply put: We make IT work for business.