Each quarter the TekLinks Leadership Team recognizes a group of employees who have been nominated by their peers and/or clients for demonstrating the very best in attitude, professionalism, dedication to customer service, self-motivation, and overall awesomeness. We are extremely proud of the kind of talented people we get tot work with each day - and we want everyone to know about their accomplishments!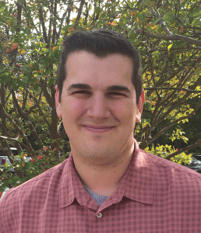 Today we're featuring another recipient of this quarter's TekExcellence Award: Paul Goudeau, Managed & Cloud Services Engineer.
Our VP of Managed & Cloud Services Engineering Terry Miller nominated Paul for the various ways in which he contributes to our team each day. No matter what the situation may be, Paul is always quick to help clients and colleagues alike. His hard work and kindness have really made a difference, particularly for the folks over at University of Southern Mississippi.
"Paul Goudeau has gone above and beyond to help USM resolve issues that they have on a consistent basis. He digs deep and wide to help them resolve their issues, whether it is a system-based issue or an issue with an end user," said Miller. "We recently received the following email from Patsy Zettle, Application Administrator of University of Southern Mississippi:
'I wanted to let you know that it is always a pleasure working with Paul Goudeau. He is always thorough, knowledgeable, and friendly. Even better, he gets the job done! Paul is a definite asset to TekLinks.'
This kind of unsolicited feedback illustrates just how devoted Paul is to understanding and taking care of our clients' needs."
Congratulations, Paul! Your considerable talents and dedication are truly an example to the rest of us - and we're so glad our clients recognize that as well!!