TekLinks is excited to announce being named to The Channel Company's 2016 CRN Tech Elite 250 list for the fifth consecutive year.
This annual list recognizes an exclusive group of IT solution providers that have invested in the training and education needed to earn the most advanced technical certifications from leading vendors.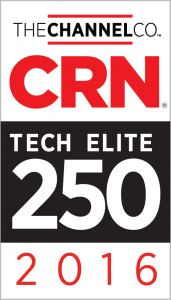 In compiling the list, The Channel Company's research group and CRN editors collaborated to assess the most customer-beneficial technical certifications in the IT channel. These technical certifications—from vendors including Cisco, Citrix, Dell, EMC, HP, IBM, NetApp, Microsoft, VMware and Symantec, among others—have enabled solution providers to deliver an outstanding level of premium products, services and support to their North American customers.
TekLinks' technical staff is comprised of more than 140 individuals. From consulting to field services, cloud architecture, implementation, and support, TekLinks engineers constitute the backbone of the company's success as a solution provider to businesses large and small throughout the Southeast. With the help of major vendor partners like Cisco, EMC, VMware and Citrix, TekLinks maintains its high standards of technical excellence by working to expand engineers' knowledge base through robust training and certification programs offered year-round.
"The solution providers selected for our annual Tech Elite 250 list have demonstrated a commitment to excellence and gained strong industry credibility by earning some of the most difficult IT certifications available from top technology vendors," said Robert Faletra, CEO, The Channel Company. "Attainment of these exclusive certifications strengthens the channel as a whole by invigorating partnerships and enabling the delivery of exceptional customer service."