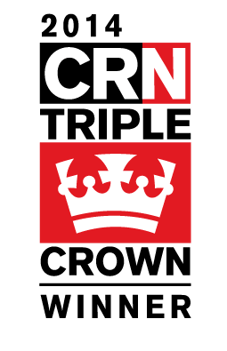 Today CRN named TekLinks, Inc., among the winners of their inaugural Triple Crown Award - an exclusive group of only 26 IT solutions provider companies across the North American continent who ranked on not one, but all three, of CRN's annual surveys for revenue growth and technological superiority. This new award from CRN recognizes solution provider organizations that have demonstrated a rare combination of strength, growth, and technical expertise by earning spots on the 2014 Solution Provider 500 (SP500), Fast Growth 150, and Tech Elite 250 lists. This year TekLinks ranked 176th among 500 solution providers and 113th on the Fast Growth 150 list.
"It's a really great honor to be recognized in this way alongside such strong leaders in the integrated solution industry, " says David Powell, TekLinks VP of Managed & Cloud Services. "We've enjoyed steady growth in 2014, but we believe 2015 promises to be an even bigger year for perfecting our services, strengthening our operational efficiencies, and expanding our core of engineers with proven experience and certified skills. We sincerely congratulate every company on this list because each of them shares in our goal of technical excellence, and each knows exactly what kind of hard work goes into achieving this level of success."
Please click here for the full press release (PDF).
A list and short description of all 26 solution providers who were named 2014's Triple Crown Winners can be found at CRN's website.