Walmart is suing Visa, and it's good news. Well, if you're a merchant or B2B vendor accepting payments via Visa debit cards, it's very good news. The suit is tackling an issue that impacts businesses far beyond Walmart.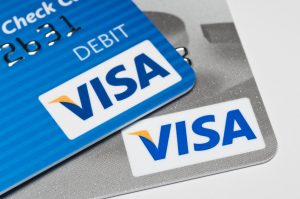 The crux of the retail giant's lawsuit is that Visa is making it too easy for consumers to avoid some of the security features built into new chip-and-PIN cards – specifically debit cards.

Walmart says that Visa is not requiring customers to enter a PIN with new cards containing a chip but instead is allowing them to use a signature – a route Walmart calls "fraud-prone."

This is a problem for Walmart and other merchants – including B2B vendors, doctor's offices, etc. - all across the United States since they were required to start using chip card readers in October 2015 or risk being held liable for fraud if there's a problem with old swipe cards.
Is the chip more secure?
The new chip cards encode a customer's account information in a computer chip embedded in the debit card instead of in the magnetic stripe along the card's back. The chip creates a unique code for each sale, making the chip much more secure. However, Walmart raises the issue that these cards are not more secure if anyone can simply sign for purchases rather than entering a PIN.
"This suit is about protecting our customers' bank accounts when they use their debit cards at Walmart," a Walmart spokesman said in an e-mailed statement. "We believe Visa's position creates unacceptable risk to customers and its actions and rules are inconsistent with federal law."
Another angle to this story to keep in mind is that Walmart isn't too happy about paying five cents extra to Visa for each signature transaction.
An outcome of the suit is not expected anytime soon, but we will keep an eye on it for you.
Learn more ways to secure your transactions and your business by emailing info@teklinks.com.
---
WHO IS TEKLINKS? A national leader in cloud computing, managed services, engineering services, and value-added resale. We're a team of expert techies and business professionals who are passionate about building valuable relationships and getting things done right. Simply put: We make IT work for business. Learn more at TekLinks.com